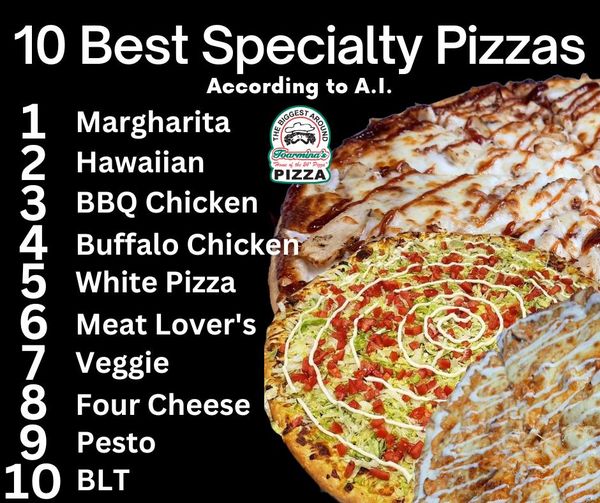 Have you been wanting to spice up your pizza nights with something different? Sure, you could order something different but it's called pizza night for a reason. Instead of ordering the traditional pepperoni or cheese, you want more from your slice. However, ordering a Hawaiian doesn't seem right either. At times like these, you need some gourmet pizza options to add variety. Fortunately, Toarmina's Pizza has some great options to choose from!
Chicken Bacon Ranch
Who says you need pizza sauce underneath the cheese to have a good pizza? The Chicken Bacon Ranch pizza is a delicious combination of grilled chicken and bacon topping on a bed of mozzarella cheese. However, instead of pizza sauce, the pizza has ranch dressing as its sauce. Not only does this pizza give you some unique toppings but sauce as well, making it the perfect change-up for your pizza night.
BLT Specialty Pizza
Do you like BLT sandwiches? Then why not try a BLT pizza? This dish has mozzarella cheese with bacon, lettuce, and tomato toppings. In addition, you get an extra topping of Miracle Whip to get that authentic BLT flavor! If you are looking for something familiar and different, this is the specialty pizza for you!
Steak and Cheese
Another common sandwich that works just as well on pizza. Any steak lover will want to take a bit out of this incredible gourmet pizza! This dish has a combination of mozzarella and American, giving a delicious blend of cheeses. The pizza is topped with steak, onions, and mushrooms. It is also covered in golden Italian dressing, giving it a rich taste.
Gourmet Pizza and More!
These are just a few gourmet pizza options! Toarmina's Pizza offers a variety of pizza offers for those that want something more traditional or unique. In fact, locations will often have limited-time pizza selections like the amazing dill pickle pizza to choose from. However, we offer more than just pizza! Our menu has other delicious food to try like our oven-baked subs, salads, chicken wings, and breads. Toarmina's also offers a gluten-free pizza! Please contact or visit your local Toarmina's Pizza and see what specialty or gourmet pizzas are available!