After eating pizza, sweet treats are always welcome. Pizza is the ideal party food, often being the meal of choice for birthday parties and other events. Without something sweet, it feels like something is missing. Fortunately, Toarmina's Pizza has some awesome desserts to satisfy your sweet tooth!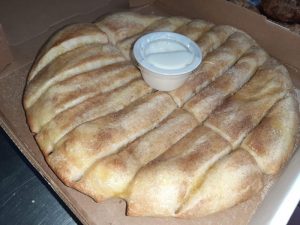 Cinnamon Bread – Yumm!
Who needs garlic bread when you have cinnamon bread? Bread is a common side to have with pizza. Most of the time, they are savory with cheese and garlic flavoring. However, cinnamon breadsticks add an extra bit of sweetness to your pizza! Our cinnamon bread takes our typical bread recipe and mixes in some cinnamon sugar. Furthermore, you are able to enjoy each bit with some icing. Just like our Cannoli, you can have this bread as a single serving or have multiple to share with friends.
Holy Cannoli!
Why not complement an Italian dish with an Italian dessert? The cannoli is a delicious dessert that comprises a pastry dough that is rolled into a tubular shape and fried. After being fried, the pastry is stuffed with cream cheese filling. Your sweet tooth is sure to satisfy with just one bite. You can order these desserts individually or by the dozen. That means you can either give yourself a special treat or share with the entire party!
Add some sweet treats to your pizza order at Toarmina's today!