Since 1987, Toarmina's Pizza has been serving the best tasting pizza in the state of Michigan. 
Our History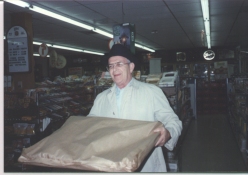 When the company talks about tradition, it has a lot to talk about. The history of the Toarmina family is virtually the history of the company itself. When the first generation American Santa Toarmina (Grandmother to the company founder) arrived in Detroit, Michigan she discovered that Americans had a different taste for pizza. She found that a sweeter sauce is better suited the American palate. Today, Toarmina's pizza still utilizes Grandma Toarmina's dough recipe, and a sweet sauce is still the quickest way to the American heart. This is the foundation of a Toarmina's Pizza.
More Cheese Please!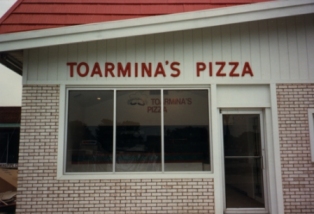 While Grandma Toarmina was experimenting to please her clientele in Detroit Michigan, another relative of the Toarmina family was also working to satisfy his new pizza clientele. Andy Vitale, cousin to the company founder and owner of the Palermo pizza chain in Grand Rapids, made his own discovery; more cheese! Andy found that above all else, the American pizza eater loves cheese. The more cheese the better.
With this combination of experience, the foundation of the Toarmina's Pizza was created. A good crust, sweet sauce, and a lot of cheese are what separates a Toarmina's pizza from the competition. A variety of quality fresh toppings on a Toarmina's pizza were welcome additions to an already delicious pizza.
The signature piece of a now full menu of items is Toarmina's famous 24 inch pizza, so much so, that it was added to their logo. Triple the size of many large pizzas, one pie will feed a whole family!
A location near you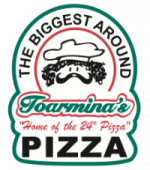 The first location was open in 1987 and now there are currently over 25 locations, with most of them residing Wayne, Oakland and Washtenaw counties in Michigan. Our growth is based on our pizza and product, not on a cute slogan or a multi-million-dollar advertising campaign. Franchise owners take pride in their product, employees and superior service to their customers.  Most people in Southeast Michigan now just search online for "pizza near me" and find a Toarmina's location that they can order from. The addition of a mobile phone app and numerous online venues make it easy for people to order fast delivery or takeout pizza, subs, salads and more quick and easy!